Window treatments have always been popular, but interior window shutters are gaining traction in particular as more and more homeowners are realizing what they have to offer over the usual blinds and drapes. For one, they are incredibly versatile, able to complement a range of home decor from chic to country. Whatever your personal style is, however, installing interior window shutters will give you: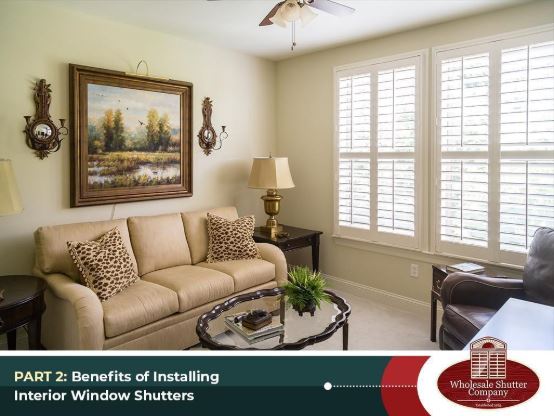 Clean Aesthetics

– Interior window shutters offer neat lines that can make any room look clean and streamlined. Where drapes may wrinkle or sag, they retain their form for years, ensuring your home interior stays as appealing as the day they were installed.

Better Energy Efficiency

– As interior window shutters form another barrier against heat transfer, they help keep indoor heat in and outdoor heat out, aiding your HVAC system in maintaining ideal temperatures inside the home. This helps prevent unnecessarily high energy bills while ensuring you are always comfortable no matter the time of the year.

Improved Security

– Interior window shutters come with their own locking system, providing an extra layer of security for the home. Even when your windows are open, you can prevent unauthorized entry with the help of interior window shutters.

Protection Against Interior Fading

– Having a lot of natural light is a good thing, but, unfortunately, all that sunshine can also hasten the fading of your furniture, walls and other interior surfaces located close to windows. Interior window shutters let you control just how much sunlight you let in during the day, keeping ultraviolet (UV) rays at bay to help you keep your home interior looking like new longer.

Privacy Control

– Interior window shutters offer superb privacy control, letting you easily choose the visibility level you want and need at any time of the day.

Maintenance Ease

– Compared to other window treatments, interior window shutters are easier to maintain, only requiring a regular dusting to stay looking beautiful. No need for professional cleaning!
To guarantee you reap all these benefits, it's important to make sure that you work only with a reputable window shutter company. In the right hands, your shutter installation project will surely be a success.
Who installs your interior window shutters is important. In Part 3 of this blog series, we'll show you how to choose the right window shutter company. Stay tuned!