Custom Shutters That Are Affordable and Long Lasting
Here at Wholesale Shutter Company, we have over 25 years of experience in manufacturing wood shutters for our valued customers. As a reputable, established company in Southern California, we have an 80% customer referral rate that speaks to our high quality, excellent customer service, and affordable prices. When you choose Wholesale Shutter Company for your window treatments, your new shutters will be installed in as little as two weeks.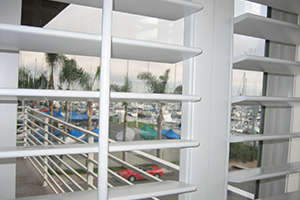 Basswood Plantation Shutters for Every Space
We use solid basswood for all our wood shutters. Contrary to some false claims, wood shutters do not peel, warp or fade, and our warranty covers these types of manufacturing or finish defects. In fact they are very durable, long-lasting, easy to clean, can be easily re-finished years from now. We have installed wood shutters in humid areas as well as the hot desert without any problems. The only place that wood shutters would not be recommended would be over a water source. As with any wood product, exposure to water can cause damage.
Shutters have traditionally been made of wood, and have proven over hundreds of years to be a quality product that is durable and attractive. These shutters offer you the benefits of beauty, versatility, and low price.
Energy Benefits of Wood Shutters
Shutters provide insulation against heat, sun and the cold, allowing you to save money on energy costs. When the louvers are closed, the shutters block out the sunlight and heat and provide ultraviolet protection. The sun's rays reflect back instead of being absorbed into your home. During colder climates, shutters insulate against the cold and keeps the heat indoors. So during the heat and cold, shutters save you money on your energy bills.
Options
Hinges:
Brass
Chrome
White
Off white
Antique
Specialty Shapes
Sunburst
Arched top
Eyebrow
Circle
Rake
Octagon
Frames
Beaded 1 ½" (standard)
Bullnose 1 ½" (standard)
Decorative 2 ½"
Decorative Z
Wood shutters can be painted or stained. Stained shutters do cost more than the painted shutters. We offer 6 stock paint and 5 stain choices, as well as your choice of louver size and hinges at no extra cost. The shutters can be custom painted or stained for an additional fee.
We custom make our shutters to fit any opening in your home or office, including:
Sliding glass doors
Windows
Closet doors
Dividers
French doors
Specialty shapes
Regardless of the window you want to cover, we guarantee we have the product to match. Our design team will help you pick out the perfect shape, size, and color for your shutters before they are ordered and then they will be created by our team of skilled craftsmen.
Higher Quality and Lower Prices
Our shutters are made of basswood rather than finger-jointed products that come from overseas. Because we manufacture our own products, our lead time is cut down to two weeks, while you may wait 6-8 weeks for products ordered from other companies.
Our prices are affordable because we deal in such large volumes, and we are confident you will be happy with the service you receive from our friendly staff. Return customers are our business, and we want you to be completely satisfied with your window treatments every time.
Contact Us Today
For a FREE estimate, give us a call today at (951) 845-8786, or fill out our contact form to gain more information about our company.