Getting to Know Wholesale Shutter Company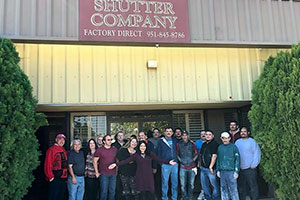 Here at Wholesale Shutter Company, our main goal is to provide our customers with impeccable service, the highest quality products and the lowest prices. We believe you should get the best of all worlds, and will never ask you to sacrifice service or quality to get your window shutters for a price you can afford.
We are a local manufacturer of poly and wood shutters, and our skilled craftsman and expert design team are here to ensure that you get the look you want for your home or office. We have everything you need to cover your windows without compromising look or function.
The Difference We Offer
Many window covering companies order their products from overseas, forcing you to wait for 6-8 weeks or more before your products are installed. Because we make our own products, your window shutters in Beaumont CA are installed in as little as two weeks.
Products shipped from overseas are often made of lower quality wood products, where we use solid basswood to improve the quality of our products. Our wholesale shutters in Beaumont CA are considerably less expensive than shutters from most home improvement stores, ensuring that your best bet is to hire us to cover your windows.
Our Quality Services and Products
Along with custom shutters, we also offer a variety of other window covering products:
We are committed to customer service, and to giving back to the community. We participate in regular sponsorship programs and fundraisers, and speak several different languages in addition to English. We strive to provide excellent customer service to all customers in the Southern California area, and can ship our products anywhere in the United States.
Customers Always Come Back for More
One thing that sets us apart from our competitors is our high retention and referral rates. Our customers constantly refer family and friends because they are happy with our services and products.
We offer a FREE estimate for window coverings to all of our potential customers, and visit your home to measure your windows and give you a price that will make you smile. Call us today at (951) 845-8786 or fill out our contact form to learn more about our company.