When it comes to window treatments, consider two important factors: light and privacy. Natural lighting is essential in small spaces, but the bathroom doesn't have the same flexibility as the other rooms when it comes to window styles, as they'd need some serious cover-up to protect your privacy.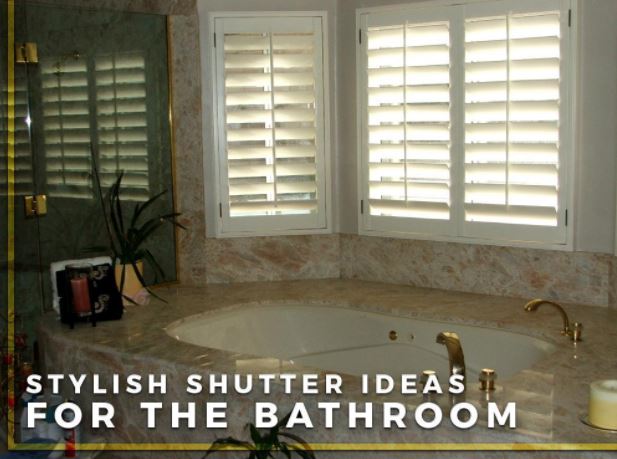 This is where the window treatment products of Wholesale Shutter Company can help. Our shutters allow you to control the amount of light, ventilation and privacy that your windows provide. Here are stylish and practical ways to incorporate them in your bathroom:
Painted Shutters
Shutters are usually painted a pristine white shade, effectively adding an elegance and charm to any room. In an equally neutral-toned bathroom, however, shutters would blend in with the rest of the design and lose their appeal. Add a fresh dash of color to your room by installing bold-colored shutters. Alternatively, black-painted shutters can create an understated yet elegant focal wall perfect for minimalist bathrooms. Choosing a glossy sheen to finish your shutters allows your shutters to reflect light and draw the eye.
Wood Shutters
Since your bathroom is one of the most moisture-prone areas in your home, it's important to choose materials that can withstand the effects of steam on a daily basis. That said, you shouldn't compromise beauty for practicality. Fortunately, our quality wood custom shutters are guaranteed to not peel, warp or fade, preserving their appearance for years. You can get them in various unique styles and shapes, allowing you to let your personal style shine through your bathroom. Our wood shutters are also highly durable, low-maintenance and long-lasting.
Shutters and Blinds Combination
Combining the charming look of shutter systems with the modern appeal of blinds gives your windows incredible flexibility. To let light in, simply open the louvers to your desired level, and close them fully for complete privacy.
For discount shutters that deliver excellent performance and beauty, turn to Wholesale Shutter Company. We have a wide variety of quality window treatments for your home. We serve Southern California, Los Angeles and surrounding areas in CA. Call us today at (866) 540-0049 to learn more about the different products we offer. We'll even give you a free estimate.